ASIA LIVE
Asia Live is an all-day Semi-formal dining outlet overlooking the lush tropical gardens and poolside of Avari Towers Hotel
SKY BBQ
Sky BBQ offers a majestic view of Karachi's night life, alongside delicious Pakistani grilled and curried specialties. Karachi Restaurants & Dining
DYNASTY
Our incredible Dynasty team prepares food that is a treat for both the eyes and the tongue, with each dish's ingredients chosen because of their freshness, vibrant color and taste
Each Karachi Restaurants & Dining is unique, but all our Restaurants & Dinning, formal or casual, share a few common characteristics. With precise attention to detail, perfect execution, and exceptional service, each one of the Restaurants & Dinning housed within Avari Towers aims for a top-notch experience. Exquisite taste and exceptional service, alongside the stunning views that set the backdrop to the entire experience, our range of restaurants will tantalize your taste buds!
Now you can also order our menus Online, from the comfort of your home or
office.
Asia Live is an all-day Semi-formal dining outlet overlooking the lush tropical gardens and poolside of Avari Towers Hotel. With its classic Mogul theme, the space is enhanced by a spacious open kitchen, always surrounded by the amazing smell of freshly made naan from tandoor ovens and panoramic floor-to-ceiling windows which wash the entire area with natural light.
The restaurant seating can accommodate up to 200 Guests at a time and opens each day at 6.30 am for Asia Live Breakfast, featuring Continental, Asian and Pakistani breakfast favorites, followed by Asia Live Lunch offering freshly cooked Pakistani, Chinese, and European global favorites in its wide range of buffet dishes. Restaurants & Dinning The Asia Live theme is predominant throughout all meal timings, with all hot items on the buffet cooked live and served within minutes.
The Asia Live Sunday Munch Brunch takes place weekly throughout the year, from noon until 3:30 pm, featuring the very best signature dishes from the Hotel's flagship restaurants, including Asia Live, Fujiyama, Dynasty, and Sky Grill. Karachi Restaurants & Dining 
Our incredible Dynasty team prepares food that is a treat for both the eyes and the tongue, with each dish's ingredients chosen because of their freshness, vibrant color and taste, and decorated with a delicate and masterful skill worthy of being Instagram-ed. No other restaurant in Pakistan serves food that matches
Dynasty is also fully equipped with four (4) Private Dining Rooms to cater to an exclusive family event, or corporate dinner for our Guests looking for some privacy and freedom without compromising on the phenomenal contemporary ambiance our newly renovated restaurant provides.
With its black and red lacquer, tasteful design and most of all its excellent traditional Japanese food, Fujiyama has fine tuned Japanese cuisine in Karachi. The location is magnificent, the sky-rise view from the top floor of the 17 story Tower will put you under its spell, especially if you visit at night when the city lights up, forming a perfect backdrop to your meal. Starting with an assortment of incredibly fresh sushi-sashimi, and tiny appetizers to tease one's palate, followed by a series of elaborate and very delicately flavored hot and cold dishes served in beautiful pottery and lacquerware appropriate to the food and season, Fujiyama pulls out all the stops!
The menu is varied, allowing you to choose between teppanyaki, assorted dishes prepared on hot steel tables in front of your eyes, to sizzling grilled beef or prawn teriyaki for those who prefer the more traditional and familiar taste. For seafood lovers there is an unrivalled selection of prawn tempura, grilled squid, tuna steaks and zesty seafood carpaccio served with garlic and olive oil. Deserts include tempura ice cream and banana spring rolls that can be enjoyed with a cup of iced lemon tea, coffee or our fresh juices.
The smoke-filled aroma of freshly grilled meat, coupled with the taste of lightly charred beef, with the perfectly spiced crust, giving way to a slightly pink and incredibly succulent interior is just one of the things you can expect at our Rooftop Restaurant! Sky BBQ offers a majestic view of Karachi's night life, alongside delicious Pakistani grilled and curried specialties.
The restaurant focuses on the quality and flavor that is distinctly representative of the famous Pakistani Grill. The buffet menu features hearty BBQ specials which include grilled mutton ribs and spicy beef kebabs, classic dishes such as Chicken Tikka, Pulao, Grilled Fish, Afghani Tikka along with simmering hot pots, filled to the brim with Spicy Aromatic Curries and the Karachi staple, Biryani.
More than just a grill it also offers the traditional and delightfully flavored Pizza, prepared using artisan Italian techniques and baked in an authentic wood-fired oven, it is a delight that will have you reaching for more, long after you are full! Karachi Restaurants & Dining
With a simple and elegant design using furniture reminiscent of the hand carved Moghul era, the Cinnamon Lounge is the perfect place to rendezvous with friends, discuss business or simply enjoy a freshly brewed cup of coffee. Open 24/7, it is a informal café where you can spoil yourself with our extensive beverage menu that includes a wide variety of drinks, from healthy smoothies, to indulgent iced coffees and milkshakes, that will surely keep you planted in the lounge for far longer than you planned!
The refreshments offered in the Cinnamon Lounge are made using the freshest ingredients, from our hot and fresh butter croissants that will most definitely have you ordering more to the crispiest pastries that just melt in your mouth Whether it's savory or sweet, if a light snack or appetizer is what you're in the mood for, Cinnamon has it all! Located right in the middle of the main lobby, it offers a soothing escape from the hustle bustle of our busy lives within the safety and luxury of the Hotel.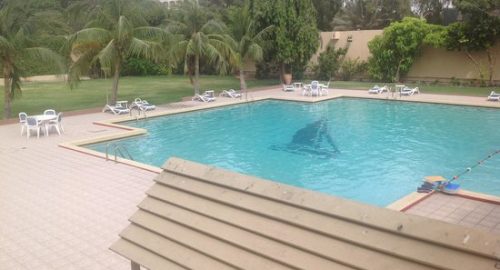 Recently revamped, The Poolside Snack Shack is an excellent reprieve from the hustle bustle, where you can lounge around the poolside after a refreshing swim, and curb your appetite with our delicious, and sometimes indulgent snacks, perfect to treat yourself with after a hearty workout!
While it does not boast an extensive menu, it certainly includes all the favorites one craves. Cool yourself down with a refreshing mock-tail on a hot day, or fulfill that ravenous appetite after a cardio-burn, with a deliciously and healthy sandwich, The Poolside Snack Shack has you covered!